About Caroline
I welcome you to Spiritual Growth Tools!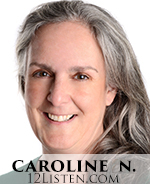 I imagine that you are already on a quest for inner peace and joy if you have found this site? I hope that it provides you with some resources towards that goal. It is an indication of the path that I have taken on my own journey to health and happiness.
I am passionate about healing, recovery and assisting others to grow. I qualified as a BodyTalk practitioner in 2005 and an Angel Therapy Practitioner in 2009. I have worked in a treatment centre for addictions and co-dependency, and I had my own radio show called Spiritual Growth Tools on the Radio on Blog Talk Radio. You can find out more about that here - Spiritual Growth Tools on the Radio
I started on the path of discovering what it was that I believed from childhood, and regularly questioned everything. It has been a challenging path, and one that is far from over. I have come to see that as long as I seek answers "out there" there will never be a solution. My journey has turned inwards and I am learning who I am ...no mean feat in today's society.
I was in International Sales for 15 years, but felt that for me there had to be more to life, and my health was suffering with all the international travel, and stress etc. So I left and tried a few different things including a turtle conservation camp in Mexico, training to be a BodyTalk Practitioner, and getting into recovery from various addictions. I then went to work in a treatment centre for codependency and addictions in America, and whilst I was there, I went to Hawaii to train as an Angel Therapy Practitioner.
Spiritual Growth Tools is the culmination of many years of seeking and trying new things for myself and studying life. I am delighted to share what I have found along my way. I hope that Spiritual Growth Tools provides you with some tools that will enable you to find yourself and thus share your gifts with the world, and start to enjoy your life!
I can help you with your emotional struggles, your health issues, spiritual questioning and much more with a variety of different healing methods. If you would like to hear what others say about working with me, go to this page - Healing with BodyTalk
I started on 12Listen.com in 2019, and now have a radio show on 12radio.com called Clearing a Path to Your Health with Caroline which you can listen to here- Show Replays . You can hear the show live on 12radio.com at 10am Pacific, 6pm UK time every other week. Details are shared on the Facebook page- Spiritual Growth Tools on Facebook
I dedicate Spiritual Growth Tools to my dear Godfather who was really unique and special to a huge number of people, especially me. He showed me how to be myself, and he really did live life to the full, and I thank him for showing me that vision and for loving me as one of his own.